Phoenix Trash Schedule 2024 (Bulk Pickup, Holidays and Recyclable Items)
Phoenix, the capital of Arizona, is a city near Buckeye and Scottsdale in USA. This city is good when it comes to its cleaning system and customer service. There is a fixed schedule for all kinds of trash pickup, recyclable items pickup and donatable items collection in this area.
Although there might be a few changes in the Phoenix Trash Schedule from time to time, the overall timetable is fixed. If you are a Phoenix resident and want to sign-up or have already registered for this program, you need to know about the following information.
More Cities in Arizona:
Phoenix Trash Pickup Schedule
Trash pickup takes place everyday on a regular basis in Phoenix, with a few exceptions. All you need to do is to place the trash cans in front of the house doors, away from the roads in the morning and then come back to take the bins after the garbage has been collected.
Find Phoenix Trash Schedule Here: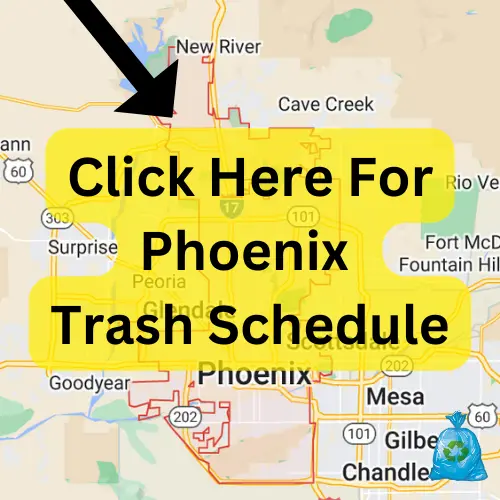 Make sure you don't forget your container outside for too long because ordering a new one will cost you money. Recycling of items can be done in the same way, however you have to use different colored containers for these items as they have to be taken to a recycling department.
City of Phoenix Trash Not Picked Up
If the trash is not picked up on the trash day, then contact the department from here: https://phoenix.gov/publicworks/contact
Before contacting the department of public works, make sure you are following all the guidelines. Also, read What To Do If You Miss Trash Day?
City of Phoenix Trash Can Replacement
You can request trash can replacement at: https://phxatyourservice.dynamics365portals.us/landing/?sr=solidwastecontainer
Sign in or continue as a guest at the link above. You will be redirected to a page where you can select the following options:
Replace broken container
Missing Container
Request Additional container
Exchange container size
Select the one which is your requirement. They might charge you for the service you want.
Phoenix Holidays Trash Schedule
Public holidays do not affect the trash schedule much, however, there are some days when your trash won't be picked up. In Phoenix, only three public holidays will change the schedule, which include
Thanksgiving Day – November 24
Christmas Day – December 26
New Year's Day – January 2
Trash collection will take place on these days but the Customer Contact Center will be closed, so residents will have to wait for a day to contact the government.
Rest of the public holidays including Martin Luther King Day, President's Day, Cesar Chavez Day, Memorial Day, Juneteenth, Independence Day, Labor Day and Veterans Day won't influence the trash schedule at all.
Fee for trash pickup and recycling
Trash pickup costs a fee but it depends on the size and number of bags you are throwing. However, in Phoenix, the fee is not supposed to be paid separately and it is collected along with the monthly services bill.
The fee includes the cost of recycling of items, trash collection, collection of dead animals, and repair of the trash containers. The fee ranges from $15 to $16.75 per container, and is different for different sizes of the containers.
Phoenix Bulk Trash Schedule
Bulk trash collection occurs regularly but not on a daily basis, hence you have to remember the dates when the trash is collected. The trash is to be placed on an edge near your house near a wall and away from the street.
Placement of trash starts almost 8-10 days before pickup for large trash pickup. For example, if you are instructed to place the trash from December 24, it's collection will most probably start from January 2.
Different areas have different schedules. Find Phoenix bulk trash schedule by clicking on this map of 2024:
Goods one can throw in bulk trash include mattresses, large electronic and other appliances, furniture and toilets etc. Goods which are not allowed to be thrown in the bulk pickup include daily household garbage, food waste, large tree woods, very large appliances like refrigerators, radioactive and dangerous substances, construction material in a very large amount etc.
Phoenix bulk trash pickup by address
The link to the PDF which is mentioned above states the dates of each area. But if you are still confused about your area. You can get help by contacting at this mail: [email protected]
Recyclable Items
Items that can be recycled include plastic bottles and other small plastic items, glass bottles and cans, small glass items, all kinds of paper including newspapers and other papers, metal cans like food cans but they should be completely empty. Note that moist paper like wet tissues should not be sent for recycling.
Also See: Where to Recycle Aluminum Cans for Money?
Wastes that can be thrown at a Facility
Apart from the normal wastes, there are some items which are allowed to be thrown, but on given conditions. Here are some examples
Dead animals can only be thrown if you have informed the management before.
Refrigerators and Air conditioners can be thrown away only when the CFCs (Chlorofluorocarbons are gasses harmful for the environment) have been removed from them.
Harmful substances like industrial waste should only be disposed of after getting permission from the management. For this, you should call at the 602-262-6251 number.
Wastes that are not allowed to be thrown
Following things are not allowed to be disposed of at any facility at any cost.
Radioactive substances like some ceramic materials.
Some household items can be infectious too, kindly don't throw them at a Facility.
Radioactive or seriously dangerous waste materials.
For more information on things which are considered dangerous, kindly visit the following website https://www.phoenix.gov/publicworks/recycling/household-hazardous-waste.
What Phoenix residents should know about Phoenix Trash Schedule
Following instructions are for the residents who have freshly signed up for the trash collection program.
When the bulk trash pickup week starts, you should make sure that you have placed the trash before 6 am.
Throwing garbage on the streets is considered illegal and will cost you a strict fine or punishment.
If somebody notices a person throwing litter at any place other than bins should immediately report him to the police or at the Public Works department. Here is their contact information. Contact the Police Department by calling 9-1-1 in case of emergencies​. Contact Crime Stop at 602-262-6151 in normal cases. Contact Public Works at 602-262-6251.
The trash you throw outside your houses should be far away from the traffic and should not disturb any passengers passing from there.
Garbage packs should be tied tightly so that they won't litter the street in any case.
For throwing the trash into a landfill, the fee will be $44 per a ton of garbage.
Recycling of five vehicle tires per year is allowed at the transfer stations, which store all the garbage and recyclable material temporarily.
Read More:
Thanks for visiting Mygarbageschedule.com. Hope you got the information you were looking for about Phoenix Trash Schedule.