Austin Trash Schedule 2023 (Holidays, Bulk Pickup and Christmas Tree)
Austin is the capital city of the state of Texas in the United States of America. Like other cities in the country, there is a fixed schedule of sweeping, trash collection and collection of recyclable items in Austin as well.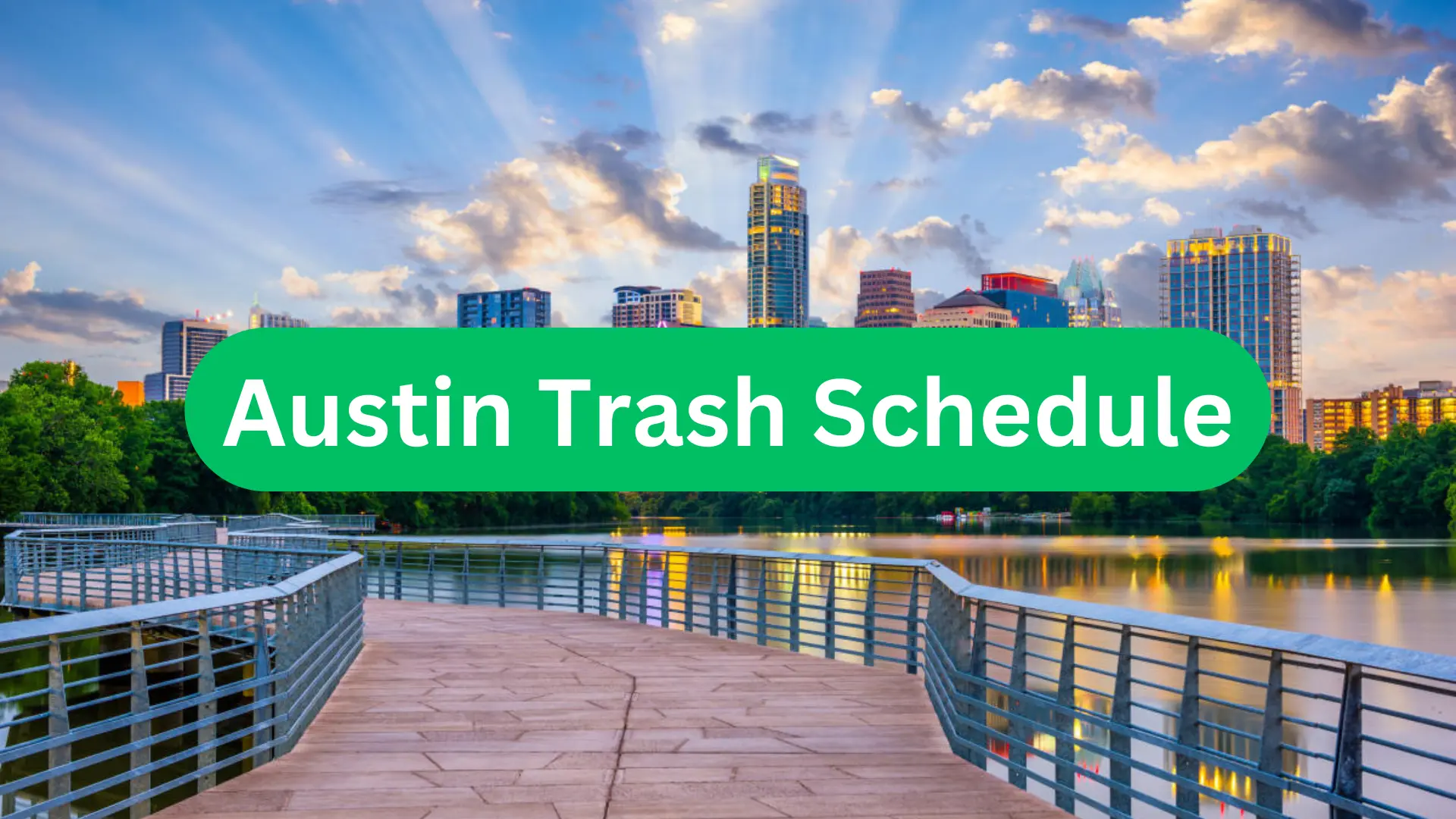 Here are all the details about what items would be collected in the brown and blue containers, what time the waste is collected, and all other details about the trash collection program in Austin.
Nearby Cities:
Austin Trash Pickup Timings
Trash pickup in Austin takes place on a regular basis. Make sure you place the garbage at the collection place before 5:30 am because the collection starts after it.
Trash collection schedules can be searched by address from the government's following website https://www.austintexas.gov/myschedule.
For extra bags which do not fit inside the cart, one has to attach an extra cash sticker which costs five dollars plus tax when bought from grocery stores.
Also, if you have to schedule a trash collection on your desired time, a fee of $15.75 has to be paid.
Public holidays that change the schedule
Some public holidays announced by the government are also applicable on the trash schedule program. No trash collection takes place on these days. However, the schedule is resumed from the very next day. Here are the holidays you have to keep in mind.
New Year's Day – January 1
Thanksgiving Day – Fourth Thursday of November
Christmas Day – December 25
Things to throw in garbage cans in Austin
Following are the examples of the things one can throw in trash cans.
Broken glass materials should be wrapped in newspapers and then can be thrown in your carts.
Needles and syringes should be placed in a tightly closed plastic or metal box, or else it is considered a hazardous waste.
Dusty things
All other household trash
Things which can NOT be thrown inside your regular trash carts include construction waste like cement and concrete, rocks and stones, and all kinds of dangerous waste described below.
Get a new trash can
If your trash container has been broken, or you want another one, you can order it from the government's waste department or by calling at tel:1-512-494-9400. Here are the car sizes you are offered by the government, along with their approximate monthly rates.
24 gallon cart – $23.30
32 gallon cart cart – $24.55
64 gallon cart cart – $29.70
96 gallon cart – $50.15
Bulk waste pickup in Austin
Waste large enough not to fit inside the trash cans is termed as bulk trash. There's no specific schedule for bulk pickup and one has to schedule a pickup by calling at the organization's number and then finalizing a pickup day. Here is the list of things you can place in the bulk waste.
Carpets
Doors
Car tires (a total of eight tires at a time)
Lawn mowers
Other large or heavy household items
Goods not to throw in bulk waste
Following goods are not allowed to be thrown along with the bulk trash.
Daily household waste
Large vehicles like motorcycles and boats
Mirrors
Recyclable items like cardboard
Dangerous waste like paints and varnishes
Austin Christmas tree recycling
Christmas trees can now be recycled in Austin according to the government-provided schedule. Place your Christmas tree before 5:30 am as the recycling team starts collection after it.
Also, make sure that the trees you are placing are not artificial and do not contain any kind of decoration items over them, and are not bigger than the size of bulk items or else you will have to cut them into two pieces.
Household dangerous waste
These are the items which are not considered very fatal in daily life but as long as they are not dried, they are included in the household hazardous waste products.
Some of the items in the list include acids, brake fluid, photographic chemicals, medications, mercury, fireworks and other explosive substances, batteries and cells, glues and adhesives, shoe polish, paints, pesticides and insecticides, swimming pool chemicals, fertilizers, varnishes, wood stain, toner, lead, gas cylinders, furniture polish, smoke detectors etc. Items similar to these should also be handled with extreme care.
One should pack them tightly inside a plastic or metal box and then throw. Another option is to take them to a landfill and then safely dispose of such things.
What to do with the waste food material?
Food waste and natural fibers should be decomposed well and they can be used as nutrient-rich fertilizers to grow plants well. Compostable items should not be taken to a landfill as high temperatures there won't let the things decompose well. One should put them inside the green cart which is used for useful items like food waste.
Another option is to compost the things at your residences. Here's how you can compost things at home: https://www.austintexas.gov/compostingguide.
Things Austin residents should know
Following are some instructions each of you should have in mind.
All the trash bags should have a distance of five feet from every kind of blockage like trees, utility poles and also from the streets in order to avoid any inconvenience.
If an extra cash sticker is not attached with the additional trash bags, a fine of $10.20 is charged.
Citizens are not allowed to throw trash on streets, and if they do so, they'll be strictly fined.
It is the duty of residents to inform the police if any such incident where a person is knowingly throwing garbage on streets occurs.