Longmont Trash Schedule 2023 (Bulk Pickup, Holidays and Recycling Schedule)
Longmont is a city near Denver, located in the state of Colorado, in the United States of America. With a number of different accomplishments, Longmont is not behind in its trash program either.
This program offers its residents sweeping of the streets, trash collection from houses, recycling and bulk item pickup, disposal of hazardous waste and yard products etc.
Here is the complete information you can get about the Longmont trash schedule.
Longmont Trash Pickup Schedule
Trash pickup in Longmont occurs regularly every week. Trash collection starts at 7 am, so make sure you place your carts before this time.
To view the Longmont trash pickup calendar, Click on the map below: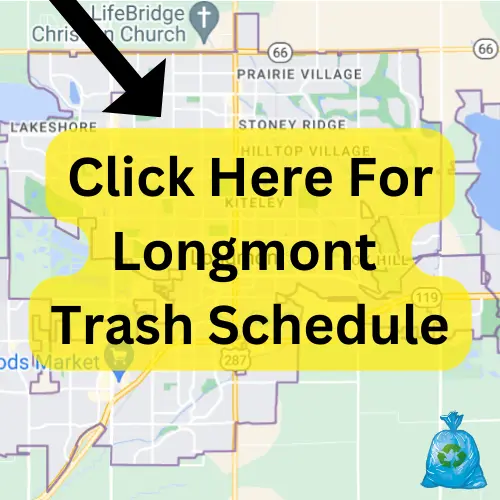 Enter your address and it will give you your collection days.
City of Longmont Trash Collection Phone Number
In case of any missed collections, contact the waste department through this number:
Call them between 8 am and 5 pm. Don't call them on weekend days.
Longmont Trash holidays
On the following public holidays, no trash collection takes place and the schedule is shifted to the next day.
Martin Luther King Day
Presidents Day
Memorial Day
Juneteenth Day
Independence Day
Labor Day
Veteran's Day
Thanksgiving Day
Christmas Day
New Year's Day
Longmont Recycling schedule
Recycling collection in Longmont takes place every other week and the collection starts at 7 am.
Recyclable items include newspaper, office paper, junk mail, cardboard boxes and other containers, jugs, glass, plastic containers, food metal cans which have been thoroughly cleaned etc.
You can check out your recycling schedule from the following address https://www.longmontcolorado.gov/departments/departments-n-z/trash-and-recycling/recycling.
Bulk Pickup in Longmont CO
Bulk waste includes very large items which are too heavy to be placed inside the regular trash can. In Longmont, bulk pickup takes place regularly.
However, you can request for additional pickup by contacting the management through the same number mentioned above.
Bulk items may include furniture, mattresses, refrigerators (with refrigerants removed), air conditioners free of freons, toilets, heaters, dishwashers etc.
Longmont Household hazardous waste disposal
Hazardous waste products are the ones which can catch fire easily or are explosive. These include swimming pool chemicals, mercury, toner, lead, gas cylinders, furniture polish, smoke detectors, fireworks and other explosive substances.
Drop off location for the disposal of household hazardous waste is open from Wednesday to Saturday 8:30 am and 4 pm.
Frequently Asked Questions (FAQs)
Recap – Longmont Trash Schedule by Mygarbageschedule.com
Trash collection in Longmont occurs regularly and you can also request an additional pickup for whatever kind of waste you want to dispose of.
To request an extra collection, or for any other problem or query, one can contact the waste services department through the number: (303) 651-8416