Denver Trash Schedule 2023 (Map, Bulk Pick up and Recycling)
Here, we are going to help you with the Denver trash schedule including the bulk pickup, recycling schedule, helpline phone number, holidays schedule and can replacement.
Denver (Zip Code: 80219) is a city of the Colorado State in the United States of America. Just like every other city, this city is also taken care of in terms of trash management.
Below you can find all the necessary details related to the Denver Trash Schedule(s).
Denver Trash Pickup Schedule (Calendar/Map)
If you want to find your area's trash collection schedule in Denver, click on the map below: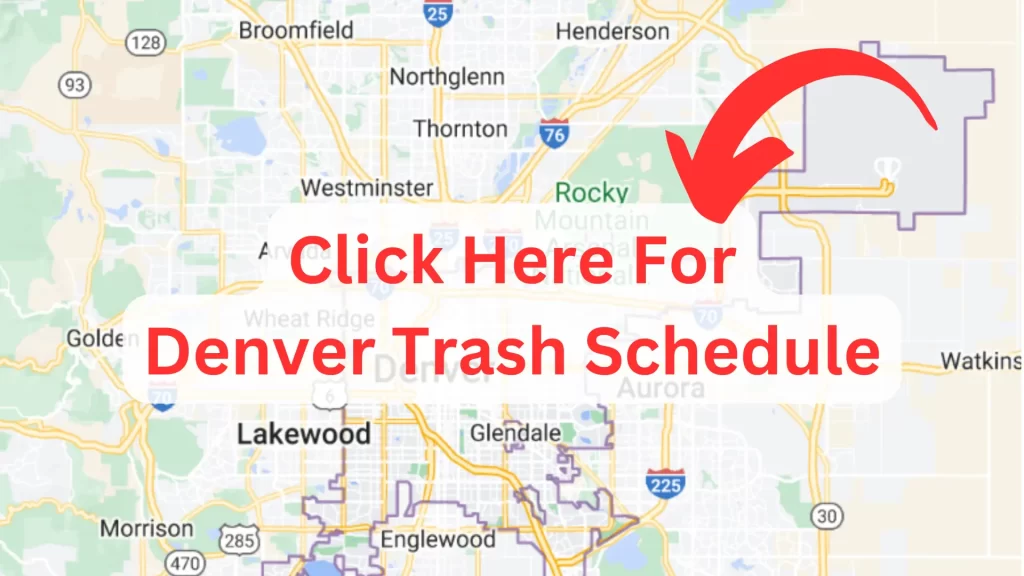 Enter your complete address at the search box on the next page. You will then be able to know your trash schedule.
If you are following the schedule and still there's no one coming to pick up the trash, then you can report here: https://denvergov.org/Online-Services-Hub/Report-an-Issue
Denver Trash Collection Cost
If you want to use the trash program, you have to pay at least 9$. There's no fee to sign up. You just have to pay monthly for the trash cans.
Trash Can Prices:
| Trash Can Size | Price |
| --- | --- |
| 35-gallon cart (3 trash bags) | $9 per month |
| 65-gallon cart (5 trash bags) | $13 per month |
| 95-gallon cart (8 trash bags) | $21 per month |
Holidays Schedule of Trash Collection in Denver
These are the holidays in Denver in which the trash will not get picked up:
New Year's Day: Monday, January 2
Labor Day: Monday, September 4
Independence Day: Tuesday, July 4
Martin Luther King Jr. Day: Monday, January 16
Presidents' Day: Monday, February 20
Christmas Day: Monday, December 25
César Chávez Day (observed): Monday, March 27
Memorial Day: Monday, May 29
Juneteenth: Monday, June 19
Labor Day: Monday, September 4
Thanksgiving Day, Thursday, November 23
The source of holidays information is Denver Govt's Website.
Denver Bulk Trash Schedule
Bulk Trash, also known as large trash or big trash, gets picked up once a month in Denver. You have to be smart in sorting out large items. Otherwise, you will have to pay a company to get large items picked up.
To Find Denver's Bulk Trash Schedule, click on the image below and see your area: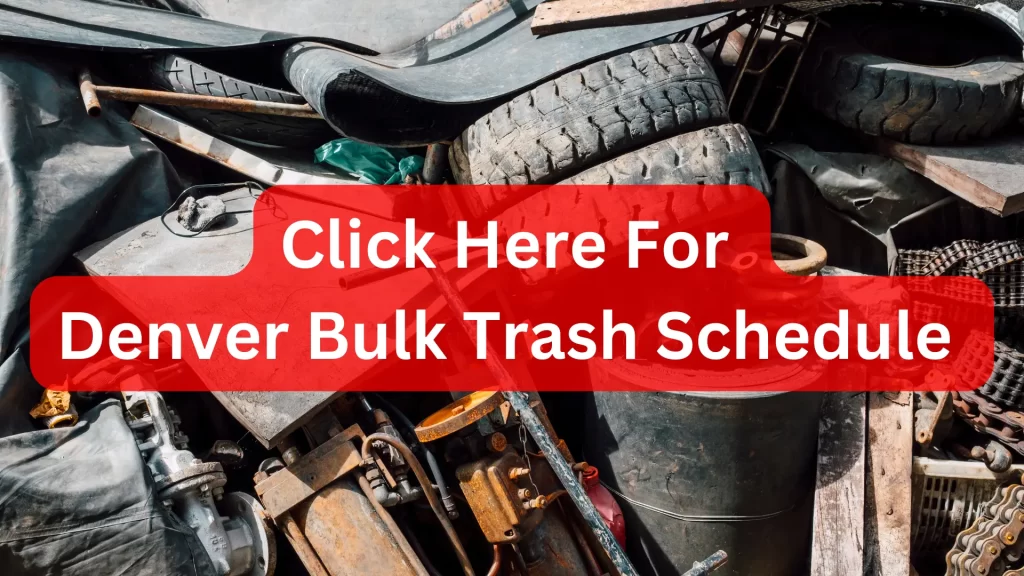 What is accepted in Bulk Trash?
Up to 5 Large Items (Furniture, Mattresses, Toilets, Sinks, Toys, Bicycles, Carpets, Rugs, Gym Equipment, and old containers)
Up to 10 bags (Household trash and Tied up branches)
What is not accepted in Bulk Trash?
Machines or Appliances
Yard items like soil, rocks and branches that are over 4 inches.
Building material (whatever it is)
Vehicle's parts or materials
Chemicals or other hazardous waste like scrap ammo
Recycling your appliances can help you earn money. Xcel Energy in Denver gives you a rebate if you give them your refrigerator to recycle.
That was all about the Denver Big trash schedule.
Recycling Schedule
According to the new recycling schedule of 2023, recycling is collected now more frequently than ever. The government is working on increasing recycling centers in Denver to reduce the pollution caused by landfill and other means of alike.
To Find Denver's Recycling Schedule, Visit this link: https://denvergov.org/Government/Agencies-Departments-Offices/Agencies-Departments-Offices-Directory/Recycle-Compost-Trash/Recycle-Compost-Trash-Schedules-and-Reminders
Enter your complete address and click on the search button.
In any kind of problems like missed collections, report an issue here: https://denvergov.org/Online-Services-Hub/Report-an-Issue
Trash Can Replacement
Sometimes, your trash can or cart gets lost and this may happen because you have placed it somewhere wrong.
You can call at 311 (720-913-1311) to get help regarding the new or lost trash cans. Get smaller carts by calling at the same number if you don't need a larger cart.
Residents in Denver normally get trash carts with 65 gallons of containers. One can increase the size to 95 gallons or decrease it to 35 gallons by calling at 311 (720-913-1311).
Customer Service and Phone Number
Customer service for trash related problems has been top notch in Denver. If you are facing any issue with your trash collection schedule, then you may call at 311 (720-913-1311) to get a fast response.
If your issue is not very serious, then you can report the issue at the Denver Government's Website. It is suggested to call 911 directly if there's any emergency even if it is related to the trash program of Denver.
Does Snowfall Changes The Trash Schedule in Denver?
It snows in Denver from October to April. So, there are high chances that there might be some changes in the trash schedule on the days when it snows.
How MyGarbageSchedule.com can help you more in Denver Trash Schedule?
We are continuously working on providing you with the guides that would easily solve your problems related to trash or garbage.
Denver's Trash Schedule is updated whenever it is changed officially. You can visit our site if you want to keep yourself updated with the latest news happening in Denver related to the trash program by the government.
We have made an infographic about Denver Trash Schedule. You can save it to print it.