Broken Arrow Trash Schedule 2023 (Bulk Pickup, Holidays and Dead Animal Disposal)
Get the latest Broken Arrow trash schedule, including holiday changes, bulk pickup, and recycling schedules. Never miss a pickup day again.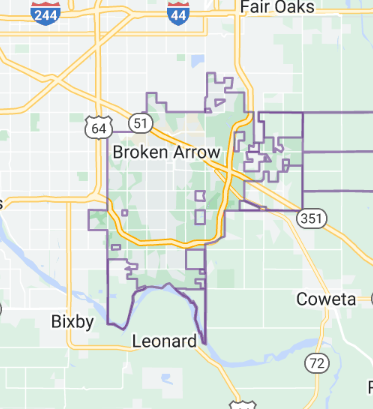 Broken Arrow is a city in Oklahoma, in the United States of America. It has an extensive trash collection program, which not only keeps the streets clean, but also helps all the residents get rid of their trash, hazardous waste, recyclable and bulk items etc.
If you are a Broken Arrow resident, here are all the details about the city's trash schedule you need to know.
Broken Arrow trash and recycling pickup
Trash and recycling pickup in Broken Arrow occurs on a weekly basis. The complete trash and recycling schedule for the Broken Arrow city can be seen from this image.
The collection starts at 6 am on your pickup day, so you have to make sure you place your carts at the curbside before this time.
In case of any problem or information you need, contact the waste and recycling department through (918) 259-7000 x7356.
Broken Arrow Holiday Trash schedule
Below is the trash schedule for Broken Arrow residents for public holidays. No trash collection will take place on the following days in Broken Arrow.
New Year's Day (observed), January 2, 2023
Martin Luther King Jr. Day, January 16, 2023
Presidents Day, February 20, 2023
Good Friday, April 7, 2023
Memorial Day, May 29, 2023
Independence Day, July 4, 2023
Labor Day, September 4, 2023
Veterans Day, November 10, 2023
Thanksgiving, November 23-24, 2023
Christmas Eve (observed), December 22, 2023
Christmas, December 25, 2023
Dead Animal Disposal in Broken Arrow
If you spot any deceased animal in your lawn or outside on the streets, contact the Solid Waste & Recycling by calling at (918) 259-7000 x7356 and then inform them about the location.
You need to place the animal in a bag and then place it on the curbside and it will be picked up by the crew members.
Broken Arrow Bulk Pickup
Bulk products do not have a defined schedule given by the government.
Instead, whenever you have some bulk items to get rid of, call 918-259-7000 x7356 and request a pickup, after which you can decide on a bulk collection day.
Bulk products include items heavy and large enough not to be placed inside regular trash carts, appliances, large green waste, and furniture.
Frequently Asked Questions (FAQs)
This is all you want to know about Broken Arrow Trash Schedule
Trash collection in Broken Arrow takes place weekly on a regular basis.
However, the schedule may alter a little in case of extreme weather conditions as well as during city holidays.
For any kind of information or to report a problem, contact the city's waste department by calling at 918-259-7000 x7356.